Forbes seems to be pushing hard again to certify 5 Star Hotels as the pandemic slows.  There are now 323 Five Star Hotels, up from just 76 a few years ago and just 283 last year!  From the press release: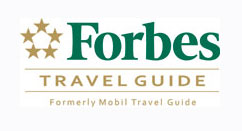 The 64th annual list features 323 Five-Star, 558 Four-Star, and 401 Recommended hotels; 74 Five-Star, 112 Four-Star, and 67 Recommended restaurants; and 102 Five-Star and 193 Four-Star spas worldwide.
To find the best of the best, Forbes Travel Guide's incognito inspectors stay at each hotel for three days and two nights, posing as ordinary guests. They test up to 900 objective, rigorous standards, from modern-day luxuries—such as whether a room is set up to enhance sleep or whether the food-and-beverage choices are health-conscious—to more traditional amenities, such as the quality of the décor and the courtesy of the staff. Seventy-five percent of a hotel's rating relies on service, while the remaining 25 percent is determined by the quality of its facilities.
The full list of 2022 Five Star winners is as follows: