According to the newest JD Power rankings, hotel guest satisfaction has reached its highest level since 2006.  From the article:
The study, now in its 18th year, measures overall guest satisfaction across eight hotel segments: luxury; upper upscale; upscale; midscale full service; midscale; economy/budget; upper extended stay; and extended stay. Seven key factors are examined in each segment to determine overall satisfaction: reservation; check-in/check-out; guest room; food and beverage; hotel services; hotel facilities; and cost and fees.

Overall satisfaction in 2014 averages 784 points on a 1000-point scale, up 27 points from 2012, with significant improvement in all segments except upper extended stay and extended stay, where satisfaction remains stable. The midscale segment posts the largest year-over-year improvement, increasing by 10 points to 801, which is the first time satisfaction in the segment has surpassed 800 points.
According to JD Power, here are the brands that scored the highest in each category: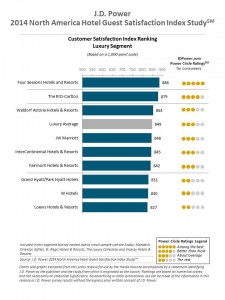 Luxury: Four Seasons Hotels and Resorts
Upper Upscale: Kimpton Hotels (for a second consecutive year)
Upscale: Hilton Garden Inn
Midscale Full Service: Holiday Inn (for a fourth consecutive year)
Midscale: Drury Hotels (for a ninth consecutive year)
Economy/Budget: Microtel Inn & Suites by Wyndham (for a second consecutive year)
Upper Extended Stay: Homewood Suites by Hilton (for a second consecutive year)
Extended Stay: Candlewood Suites