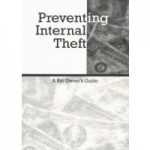 This book, written by Robert Plotkin, has been around for quite a few years and is in its fourth or fifth printing.  The book does a very good job of covering internal theft in bars.  The chapters range from 'Exploring the Causes of Theft' to 'Preventative Measures'.  At 96 pages long, the book is an easy read and serves as a decent reference.  If you are new to beverage control, you will find yourself going back to the book time and time again as you try to improve the controls in your bar.  A more experienced Bar Manager will not find much of the book very useful.
While there is a lot of great advice on preventative measures, the book does feel a little outdated.  Also, many of the recommendations for beverage control seem very costly when it comes to supervision.  Hotels that do not have a F&B Manager on the floor at all times will have a very hard time with the recommendations.  In addition, many of the recommendations are just way too time-consuming, and small to midsized hotels will have a hard time finding the time and manpower to do them.
Overall, we recommend the book for managers who are new to beverage control.  Veteran managers can probably skip this book.