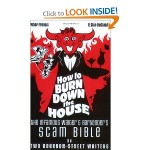 Who has read 'Burning Down the House: The Infamous Waiter & Bartender's Scam Bible'?
This book was actually written to teach bartenders and servers how to steal from their restaurants and bars. The tagline on the back reads 'Diners and Managers, beware!  Waiters and bartenders, give yourself a raise!'
It was written by two servers who work on Bourbon Street.  It is a quick read, you could probably finish it on your lunch break.  It is a very dangerous book! It covers the simple scams like check representing and the more complicating scams like the wagon wheel. A couple of the scams are far-fetched or out of date, but the book does a good job of describing all of the ways a server or bartender can steal from your hotel.  The book is also pretty entertaining.  It is written in an edgy fashion and includes chapters like 'Suggestive Stealing' and 'The Buffet Scam'.
Please add your comments about the book below… and if you buy the book, don't leave it sitting around your office where your servers will see it!